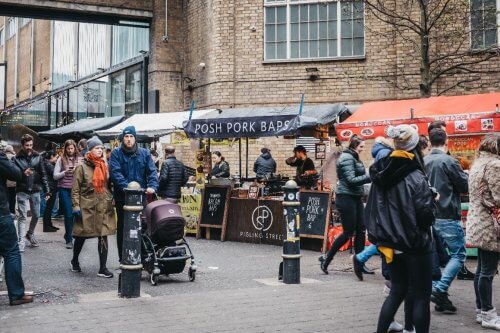 If you're a magpie with an eye for the artsy and original, then chances are you'll be swinging by Brick Lane Market one Sunday. It's the place to go to find vintage and second-hand furniture, original clothes and… well… stuff. The main market opens every Sunday from 10am to 5pm so you have all day to find your perfect something.
What is it?
So what can you expect to find at Brick Lane Market? On account of the history of the place, almost everything under the sun! It's actually an evolution of the five 'Truman' markets that have grown and merged together over the years. The Backyard Market and Tea Rooms run all weekend, but the main event is the Upmarket on Sundays. This proclaimed 'platform for emerging designers and organic cuisine' draws a huge crowd of treasure seekers and bargain hunters.
Where, exactly?
Just head to the Old Truman Brewery (number 91, if that helps). All of the variously titled markets take place either in or around this location. That's not all, actually. The regeneration of buildings that's been taking place under the umbrella of The Old Truman Brewery is extensive. When the market's not in full swing, there's anything from exhibitions to fashion shows taking place.
Apparel
From the vintage to the bespoke, the tastes of young and old are catered for around the market. Head to the Backyard Market for handmade, and to the Vintage or Upmarket for pre-loved. It being a market, though, it's all about browsing as you can find surprises in the most unexpected of corners!
Furniture
Whether you're after an art deco side table or 70's coasters, Brick Lane Market is your ideal destination. The Tea Rooms are the key stop for antiques and furniture. So you can discover a real talking point for your living room. Or maybe find that unique handmade finishing touch for your hallway.
Collectables
Comics, vinyl, maps and even typewriters can be found here on Brick Lane. There's a reason that this market is a favourite haunt of London's hipsters and quirky bohemia alike. Not to mention all the miscellaneous collectables which you may find hidden amongst the bric-a-brac!
Entertainment
It's in the nature of a market to demand a certain element of browsing and investment in time. That's probably why Brick Lane Market attracts the range of street entertainment that it does. So while you're browsing around, expect to be accompanied by a soundtrack that is more than just the hubbub of stallholder patter.
And if that's enough to make you feel like you need a bit of R&R, pop over the crossroads to Apples & Pears Bar. We're now open on Sundays so you can kick back and review your purchasing successes. We want to keep the market vibe going, though so expect laid back live music to unwind the soul. Enjoy a cocktail (or two!) to recover from the travails of market shopping… And perhaps debate whether to dash back for that vintage glassware set.